Exhibition 2016-2017

Preambule
Open Imagination's doors! And get the audience to enjoy what your idea of an Incredible City looks like !
It may be a modern megalopolis or an ancient place. It may be frozen or forgotten. It may be powered by the sun or by imaginary alternative energies. It may be a luminescent haven freshly sprung from the ground or the unsafest place known to mankind after decades of decay…
It may even already exist within the depths of your subconscious, just waiting to emerge and fascinate us!
Your very own city should only abide by one rule: being so Incredible that it takes our contemporary breathes away!
EXHIBITIONS
The EPAC, Academy of Contemporary Arts, the first Comics and Game Art School of Switzerland, Saxon, Wallis, Switzerland in collaboration with The FZ 15 Animation & Story Gallery, New Taipei City, Taïwan R.O.C, the MOCA, Museum of Contemporary Arts, Taipei, Taiwan, R.O.C and its partner universities are proud to announce the launch of the 3rd Imaginary Landscapes international art competition, which yearly edition will be focusing on « Incredible Cities ».


SWITZERLAND (2017)


The exhibit will take place at the EPAC, route du village 39
and at « Chemin des vieux Saule », in Saxon.

Exhibition opens at the EPAC the 05.09.17, 6 P.M

Exhibition will end at the EPAC the 20.10.17, 6.30 P.M

More informations on :

www.epac.ch / www.imaginary-landscapes.com




POLAND (2017)

Place: Promotional Gallery and the Painting Gallery
Academy of Fine Arts in Krakow,
31-157 Kraków, pl. Matejki 13, Poland

Time: Opening ceremony and awards ceremony in the presence of the Rector of the Academy of Fine Arts prof. Stanisław Tabisz and the Director General of the EPAC Patrizia Abderhalden will be held on Thursday, March 16th. , 2016, at 16.30.

The exhibition will be open from 16th. to 31st. of March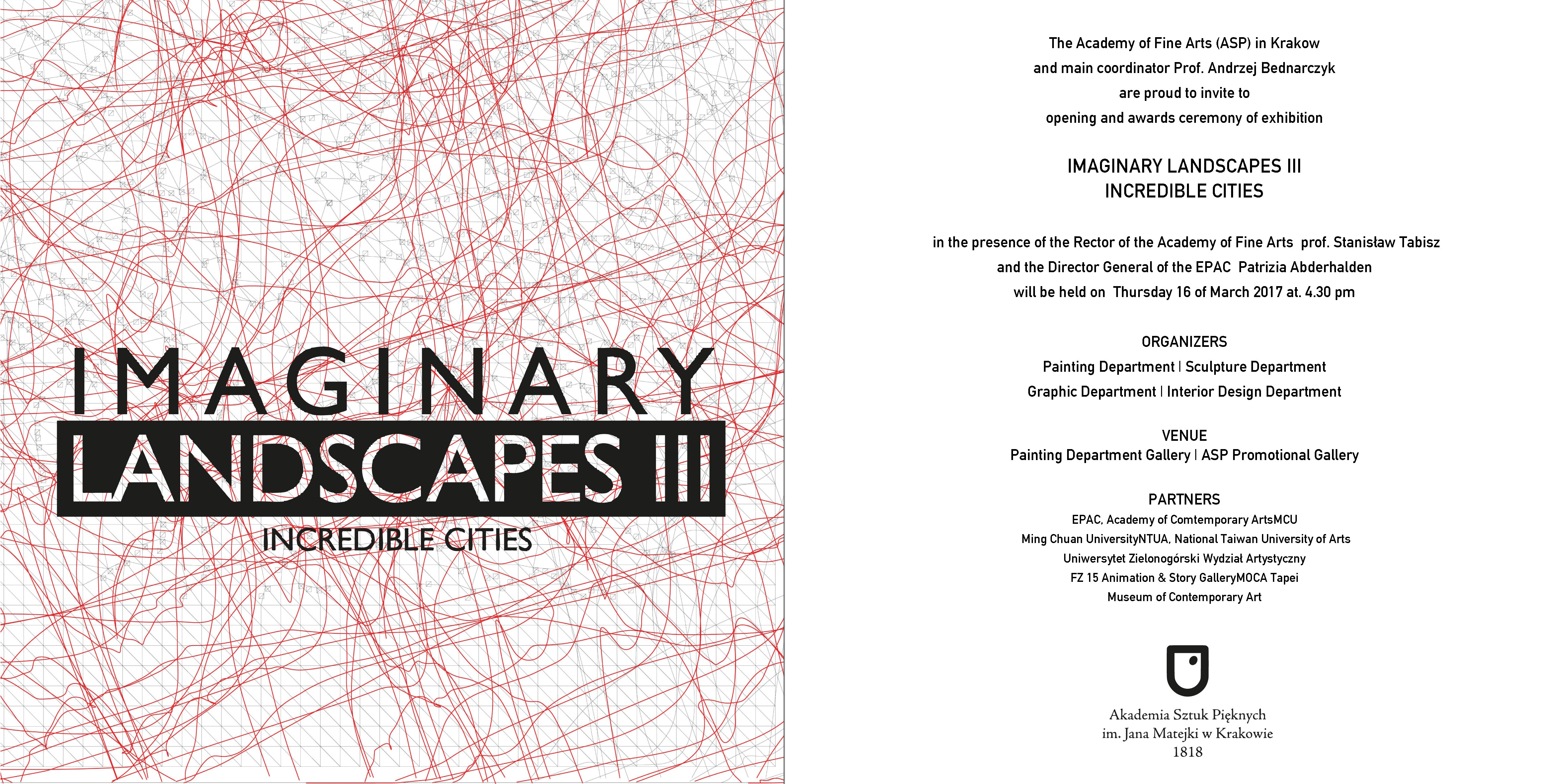 TAIWAN (2016)


FZ Fifteen, Animation and Story Gallery, New Taipei City,Taiwan
Exhibition from 1.12.2016 - 5.2.2017 FZ