SYMPOSIUM PI

The PI Symposium is a 3-day event on art and emerging technologies. The idea is to bring together scientists (from robotics, biomedical ethics, sociology of the media, ethnology), transmedia artists (augmented reality, design, 3D animation) and video game developers (for therapy and entertainment) with personalities from the fields of art, culture, and academic research, to debate the relationship between man and technology in a rapidly developing, culturally digital world.
A selection from the student work (videos, animations, digital paintings, interactive installations, drawings, transmedia) entered for the "Imaginary Landscapes II" biennial international competition, initiated by Patrizia Abderhalden, who directs the EPAC, and Eng-Hiong Low, in collaboration with the MoCA (Museum of Contemporary Art) at Taipei on Taiwan (ROC), and the fruit of collaboration between arts academies and universities in Europe and Asia. The theme of this second edition was "Immortal quest – new spaces and codes – the post human".
Title, artist(s) and type of work on show:
Obfuscator, Chen-Chun Chen, an interactive installation
Circus, Guo-Wei Chiou, animation
Suspended Monsters, Nicolas Degaudenzi, digital painting
Landscape, Chih-Ming Fan, video
A Time and a Place, Chuang Ho, animated drawings
Floating Island, Hsin-Wen Hsu, wood and pencil
Live or leave, Po-Yu Huang, digital graphics
Bionic Orchid, Li-Chin Lin/Yun-Jun Lin/Cipto Hartanto, interactive
installation
Eternity, Julien Loutz, pencil
Rouge Statue, Dexter Maurer, colour pencils
Le Signal, Ramiz Morina, digital painting
Emissary, Kevin Péclet/Ramiz Morina, video
Blue Vegas, Aimé Salamin, digital painting
Goodbye, Goodbye! Ping-Yu Shen, animation
Uluru 1, Justyna Smolen, photograph
Untitled, Stanislawski, photograph
Epreuve 1-4, Alice Suret-Canale, gelatin silver print
Posthuman, Katarzyna Szymkiewiecz, video
Insect Swarm III, Bing-Hua Tsai, interactive sound installation
Post Human, Gautier Rebetez, photomontage
Le Titan, Florent Roh, digital painting
Cinis 13, Adam Vogt, digital painting
Stamp, Lewis Wang, artwork on paper
The Voyage, Po-Yen Wang, video installation
Murder, Tzu-Ting Yang/Jui-Ting Fan/Li-Ping Wang, animation
Ziggourat, Loïc Zanfagna, painting
Samara, Xiao-Kang Zhang, animation
Formal opening:
Friday 28 November at 7 p.m.
Opening hours:
9–12 a.m. and 2–6 p.m. (except Saturdays
and Sundays) plus the evenings when
there is a performance at the Theatre.
Until 1 March 2015.
The Théâtre du Crochetan,
Avenue du Théâtre 9 / CH-1870 Monthey,
Valais / Switzerland
Tel. 024 / 475 79 09
More information: www.symposium-pi.ch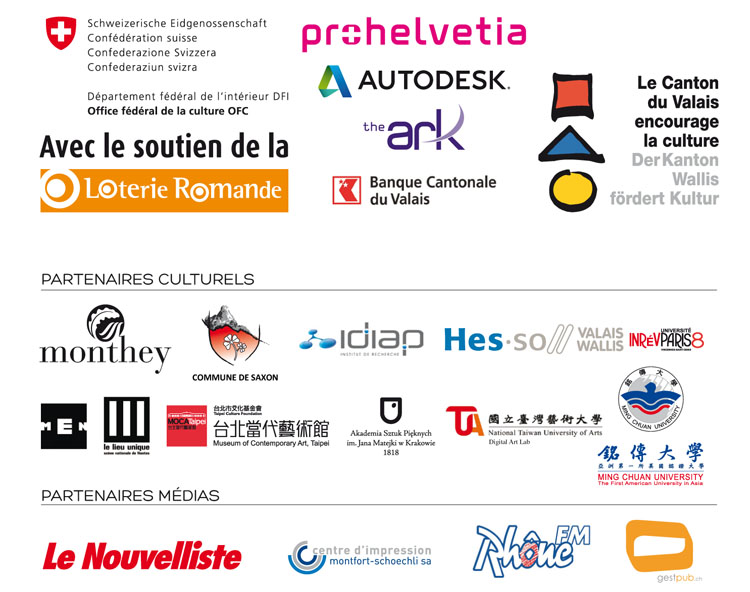 An immortal quest by Patrick Gyger
Immortality is an important motif in conjectural fiction, since the Epic of Gilgamesh. The exilir of life or the fountain of youth are recurring elements in literary quests, like the Holy Grail. To immortality it is obviously necessary to associate the notion of eternal youth: otherwise, the immortal would undergo inexorable and endless aging (see the myth of Tithonus).
However, the figure of the immortal being (Melmoth or Wandering Jew) is often associated with vanity, and the desire to replace God. This quest is not only illusory, but impious, and thereby doomed to failure. In the case it should succeed, it would be at the expense of one's humanity, which, in essence, is intended to last for a time (see The Immortal by JL Borges). It is also an inherently selfish quest, since it seems obvious that the population can not continue to reproduce if nobody dies: thus immortality is acquired at the expense of the majority of mankind. Science fiction has often described worlds where a privileged few ever lived in the midst of a crowd of mortals, until there is rebellion against this injustice (see To Live Forever by Jack Vance, as one of many examples) . And the fear of a new breed artificially created by us and easily "fixable", which would overtake us in longevity, is a corollary to this situation (in Blade Runner, among others).
Immortality as a sign of unlimited possibilities or of stagnation and degeneration: SF thoroughly explores these issues during the second half of the Twentieth Century. The strength of the desire for immortality is always highlighted, as the void that will eventually follow the completed quest. How to find motivation to live when we know that nothing can ultimately endanger us and time is never counted?
Today, the opportunities for new bio-technologies and the ideas of the transhumanists revive once again the question of the extension of life and the rejuvenation of the body, an existence so extended that history itself would be transformed.
What kind of world awaits a society, in which people live longer than ever? Paradises or environments of eternal boredom? What systems (commercial, educational, cultural) would keep us alive? What links would these new societies maintain with the metaphysical quests promised by reigions or philosophy?
In any case what seems immortal is the fascination for the theme of eternal life, and the many questions that this possibility raises ...